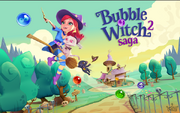 For the wiki about this game see Bubble Witch 2 Saga.
Bubble Witch 2 Saga is a sequel of Bubble Witch Saga which the game made by King.
Players help Stella and her cats make their way through this super-epic saga unleashing the good ghosts.
It's graphic's are fantastic, as it has graphics like Bubble Witch Saga and Pet Rescue Saga.
It was released a day later than the Android/iOS version.
Android/iOS: 03 June, 2014
Facebook: 04 June, 2014
There are currently 4 types of levels in Bubble Witch 2 Saga:
Free the good ghost (Ghost)
Clear the top (Classic)
Save the animals (Animal)
Defeat Morgana (Morgana)